On September 13th, 2017, I had 10 minutes to convince Gary Vaynerchuk that the eCommerce market was about to change forever, and that the industry was in for a rude awakening if some fundamental things didn't change immediately. I explained what I'd learned as one of the top salespeople at Shopify Plus and the industry opportunities I'd identified. I only needed 4 of the 10 minutes before he told me we are building a new VaynerX company together.
Since then, it's taken two years of testing, deploying and iterating on the models Gary and I engineered in partnership with some of the top minds in global eCommerce. To round out our team's experience, we acquired one of the top eCommerce engineering firms, Lucid Fusion. After countless success stories driven by our team working behind the scenes, we're humbled and thrilled to announce the launch of VaynerCommerce, a growth engineering and consulting firm focused on scaling the world's top consumer brands. Now, more than ever, brands need to innovate. The current solutions being leveraged by the eCommerce industry are showing diminishing returns. We feel that the time is right to move the commerce world forward.
Robbie Deeks, Chief Commercial Officer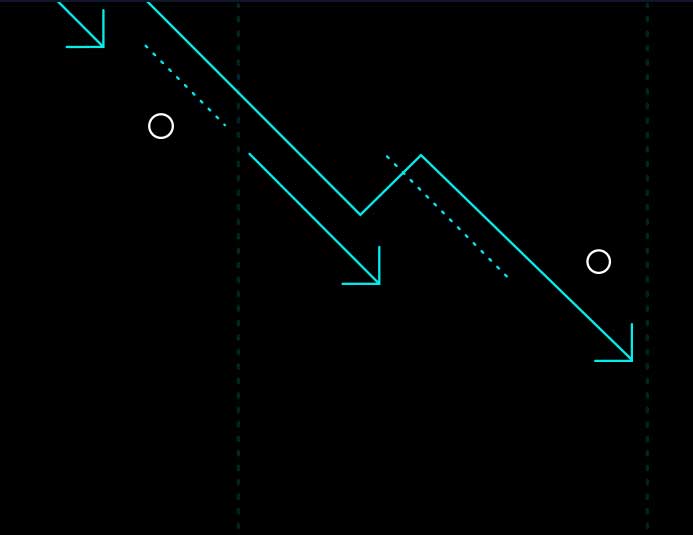 10 Years Of Exuberant Growth
Over the past 10 years, the eCommerce landscape has completed a roller-coaster cycle. There was a lot of noise around Direct-To-Consumer (DTC) being the most promising channel to drive growth in both emerging and established brands, leading to a proliferation of roles and divisions at large enterprises coupled with a flood of exuberant venture capital dollars into promising upstart brands.
At a high level, the core premise of going "Direct-To-Consumer" is compelling from a unit economics perspective. At its core, the ephemeral promise of "cutting out the middlemen" touted by near-every DTC startup furnishes founders with defensible evidence that their model is disruptive while justifying an armada of graphs that go up and to the right. The perpetuated promise of capturing this additional contribution margin from consumer goods wholesalers and retailers has enabled the rise, and now recently the fall of once-starry-eyed "success stories" like Brandless, Casper and countless others. What wasn't widely thought about during DTC's "exuberance stage" is that if technology like Shopify enabled direct relationships with customers leading to higher margins, then by nature of the ubiquity of access to Shopify, Facebook Business Manager and Alibaba product sourcing, DTC is by its own nature a commoditized industry.
There are presently next-to-no barriers to sourcing products anywhere from high-end personal care products to construction equipment, opening up a storefront on Shopify, and driving potential customers using Facebook ads to that storefront in order to purchase your products. Completing this process of successfully "throwing your hat in the ring" of creating a DTC brand or a Digitally Native Vertical Brand (DNVB) means you have now created an opportunity for potential growth if customers are attracted to your creation. But this same process perpetuates the democratization of DTC led by Shopify - where all merchants are equipped with identical sets of tools and availability of data, leading to an inevitable reversion to the mean. And as we know, great companies are not built out of playing to the mean.
This is by no means to put any blame at Shopify's feet - they've provided all of us a toolbox of features, APIs, and workflows that would make eCommerce entrepreneurs of the early 2000s jealous. Rather, it is up to leaders and managers building modern consumer brands, along with the agency partners that those brands trust to be part of their support system, to leverage opportunities for differentiation into brand defensibility, innovation and growth.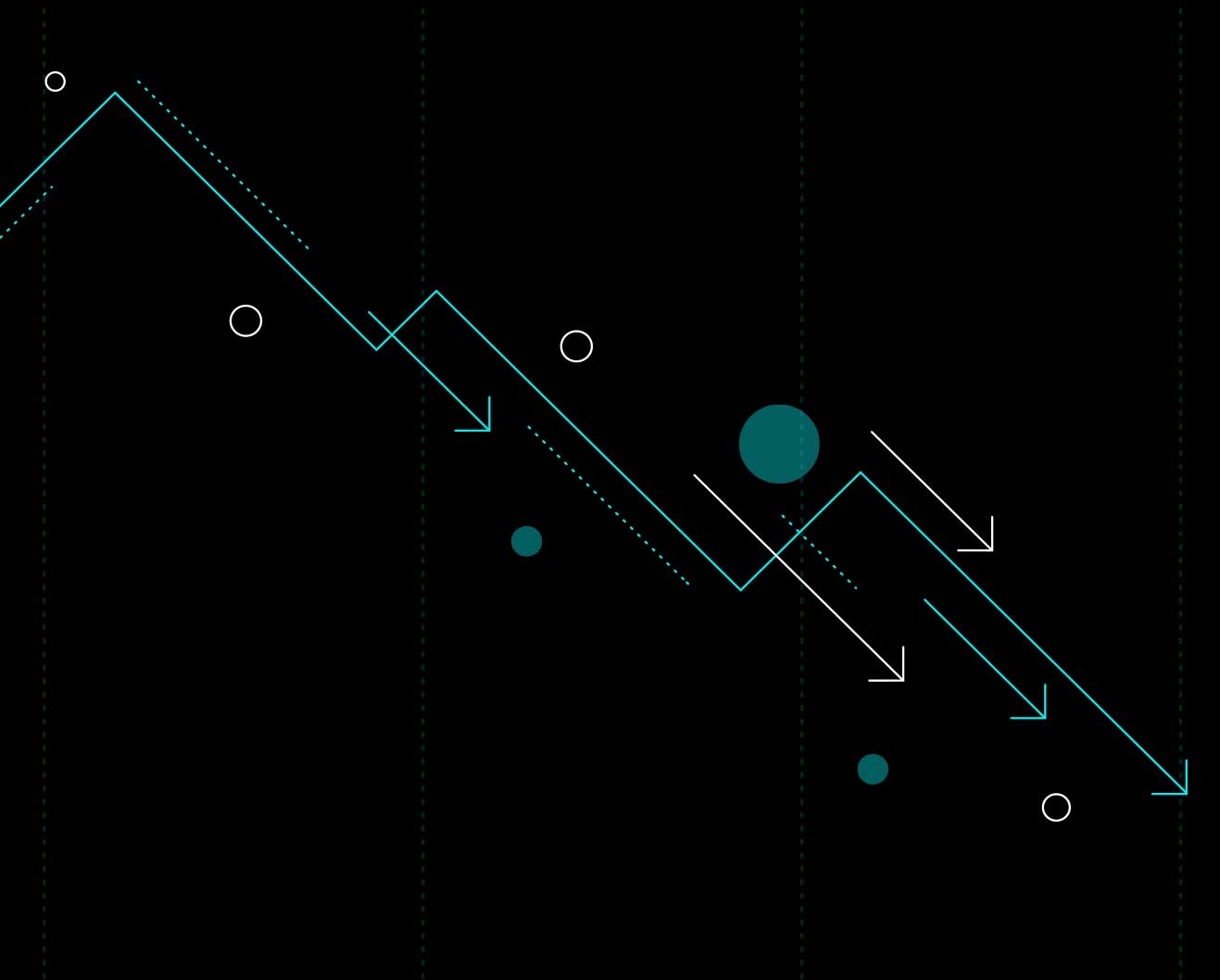 David vs. Goliath

Spoiler: Everyone Is David
But what of the paragons of consumer goods who have graced our store shelves (yet not our online carts) for as long as we can remember? How do they play into all this? As Fortune 500 consumer brands are quickly realizing "what got them to here won't get them there". Meaning the operations, marketing and human infrastructure that has been meticulously iterated upon for the last several decades to build great in-store brands is often radically different than the infrastructures required to scale an eCommerce brand. The lag in building capabilities is what results in Glossier "coming out of nowhere" in the DTC channel, or Dollar Shave Club and Harry's taking considerable market share from the incumbents through online-first growth efforts.
To their credit, many long-standing consumer brands and holding companies have recognized that while their infrastructure often works well to keep their current lines of business rolling, something needs to change in order to drive growth in new channels and brands, especially in eCommerce-first efforts. This has manifested into a proliferation of consumer goods mergers and acquisitions in recent years, in search of fresh ideas, talent, intellectual property and technology. However, this acquisitive behavior doesn't address the core demand for replicable, eCommerce-based innovation in large businesses.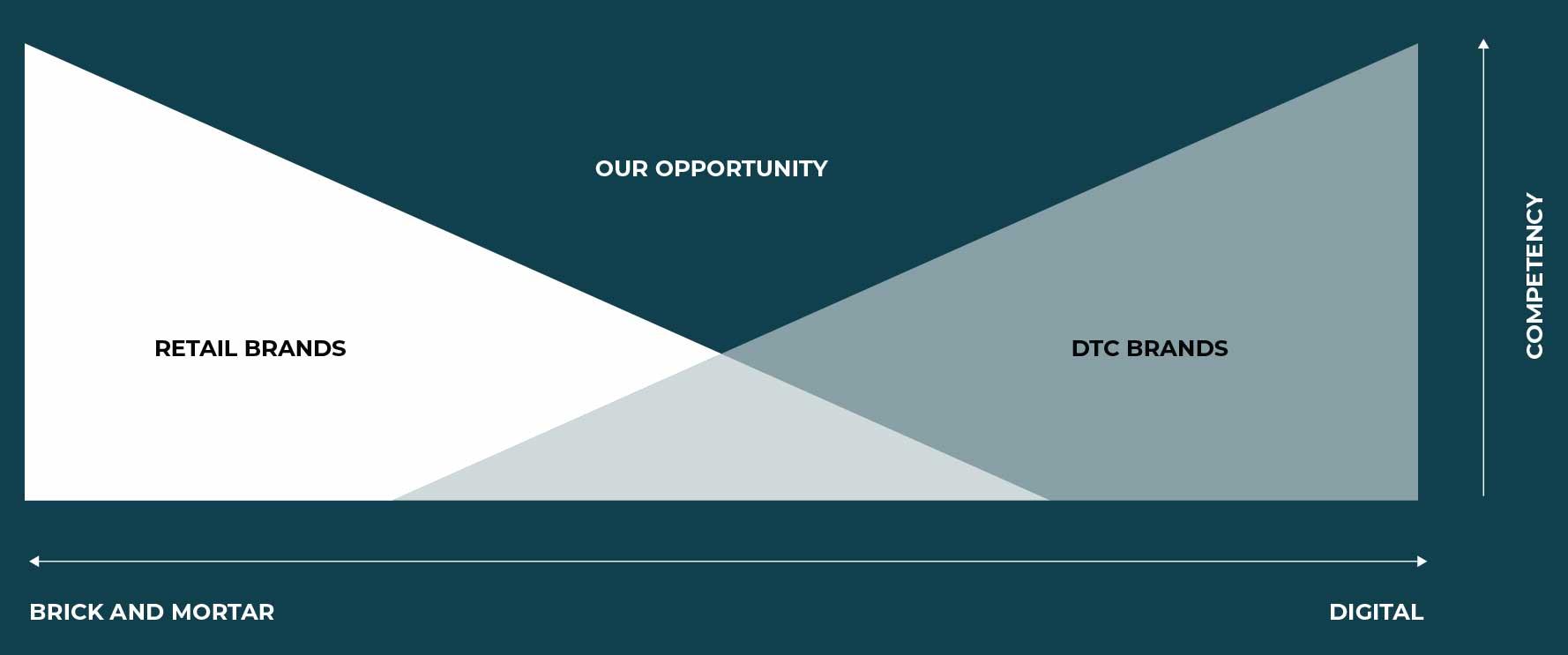 In fact, the above captures an intractable problem for both large consumer brands as well as aspiring challenger brands. How do large brands get more nimble and efficiently integrate modern eCommerce and growth systems into their innovation culture? How do fast-growing startup brands break out of the inherent limitations of the commoditized operating and marketing systems that every other startup has access to? Those are the questions that we set out to answer.
The eCommerce stage is set for a renaissance of sorts over the coming years. Large brands will need support to overhaul their legacy infrastructure to better support eCommerce best-practices and growth initiatives; challenger brands will need conventionally-inaccessible technological innovation in order to differentiate their trajectories from the current outcomes on the commoditized DTC technology stack.
Unfortunately, solutions currently prescribed for eCommerce growth problems are fundamentally broken. An industry of eCommerce agencies has emerged, where agencies brand themselves as boundary-pushers in eCommerce, yet continue to sell the same undifferentiated menu of value-added services. Brands that have been fed this passive level of "collaboration" inevitably discover that conventional agency incentives, talent and metrics don't match their desire for sustainable growth. Reliance on technology alone begins to limit brand growth, and app creep begins breaking down the flexibility that the commoditized DTC stack previously provided.
Over the coming months, we'll be sharing our perspectives into what we see as the future of eCommerce and technology. We'll explore unlocking creative content at scale, building new sources of value creation, finding new monetization models, leveraging new growth measurement frameworks and why we've invested building the infrastructure for all of the above and more.
INTERESTED IN HEARING MORE?


© 2020 VAYNERCOMMERCE, LLC